Reading Time:
3
min
Around the globe, governments require online retailers to restrict access to minors. Many of the laws require reliable age verification laws or age-restricted to verify & supply products.
Age verification for e-commerce has been a global issue in the vape industry, it is now gaining additional attention with the surge of online retailers selling END products.
Vapes, vaporizers, vape pens, hookah pens, electronic cigarettes (e-cigarettes or e-cigs), and e-pipes are some of the many terms used to describe electronic nicotine delivery systems (ENDS). ENDS are non-combustible tobacco products.
"Without age verification or age-restricted software, stores can face serious repercussions (legal and otherwise – bad PR, for instance) if underaged consumers get a hold of their goods"

– Forbes
Cigarette/Vaping eCommerce stores really need to comply with the legal rules for selling underaged products like cigarettes or vaping products online.
The Law ENDS Online Sales of Vaping Products to those below the age of 18.
Legal laws when Selling Vaping Products Online:
General Data Protection Regulation (GDPR).
Publicly Available Specification (PAS) 1296: Online Age Checking.
Age Verification Providers Association (AVPA) Code Of Conduct.
Age verification in the INDIA:
As per the Central government of the Cigarettes & Other Tobacco Products Act (COTPA), the law states that it is an offense for any person to sell any tobacco products (including cigarette papers), nicotine inhaling to a person under 18, whether or not it was for their own use.
Age verification in CANADA:
Canada's legislation says, if you sell tobacco or vapor products in Ontario, you must follow the rules in the Smoke-Free Ontario Act, 2017.
It is against the law to sell or supply a tobacco product or vape product to someone who:
Younger than age 19
Appears to be younger than age 25, without asking them for ID and being satisfied that they are at least age 19
As a retailer, you must post these signs depending on the products you sell.
Age verification in the UK:
As per 1 October 2015 records from Uk gov. official website, it became illegal:
For retailers to sell electronic cigarettes (e-cigarettes) or e-liquids to someone under 18
For adults to buy (or try to buy) tobacco products or e-cigarettes for someone under 18
Age verification in the US:
Online retailers that sell ENDs products face more regulations from the U.S. Food and Drug Administration (FDA). As per the US, FDA department official statement:
Seek to curtail the sale of applicable flavored ENDS products that are sold online without heightened age verification processes
SetuBridge's Magento Age verification popup
The Magento 2 age verification or age-restricted is a smart compliance tool that helps merchants to enforce age checks for visitors before entering restrictive websites.
The module offers flexibility to select several pages to show pop-ups instead of the whole site, which could not only help protect your website effectively but also enhance the experience of users. Also, No unnecessary repeated checking prompts once verified.
Add age lock on specific product pages or the entire website
Show age restriction pop-up to mobile users
Easily customization of the age verification popup color and content
No unnecessary repeated checking prompts once verified
Provision for popup templates with different styling and purpose
The module helps online retailers to add the age gate pop-up Magento 2 on any of the pages or all pages of the website to restrict tobacco products.
Age Verification Popup
To avoid trouble with authorities. Businesses are integrating their website with an Age Verification Popup.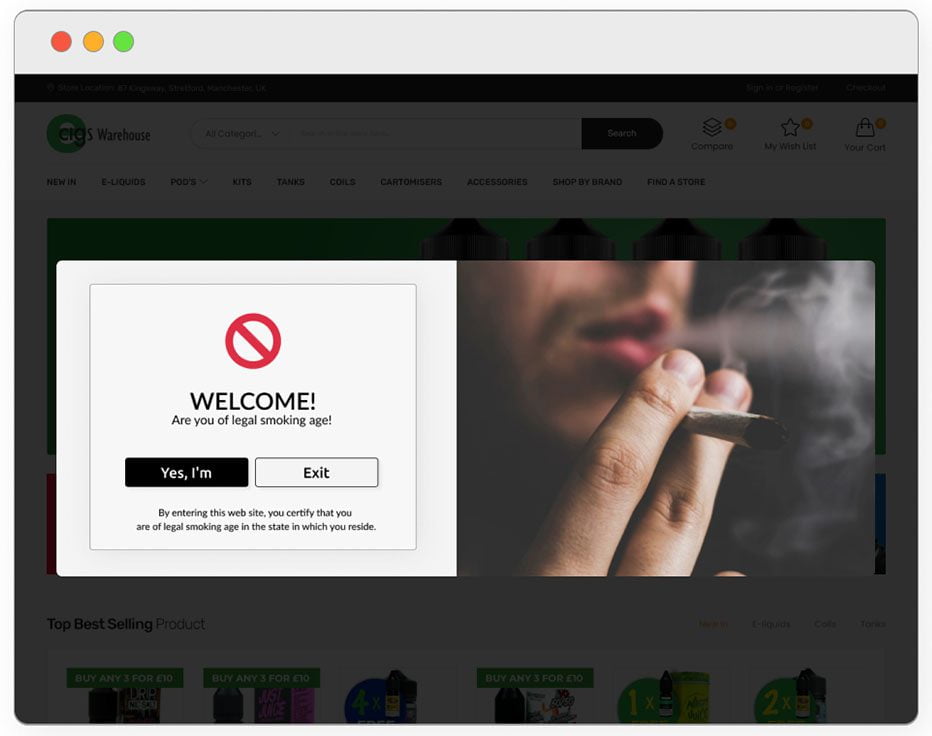 Conclusion
Age verification or age restriction laws for online retailers are different by country. Countries prepare a law based on their citizen's better health. Online retailers add age verification plugins as per the products they sell in their stores.