How to Score 100 in Google PageSpeed Insights in 2021?
9 min. read
The Google PageSpeed Insights is a useful tool for all kinds of webmasters, developers, and site owners to check and improve the website's performance for SEO.
Google PageSpeed Insights is run by the world's largest and most popular search engine, Google. So its score directly affects your Search Engine Results Page (SERP) rankings.
Google Page Speed Insights is run by the world's largest and most popular search engine, Google. So its score directly affects your Search Engine Results Page (SERP) rankings. In 2009, Google conducted an experiment and found they lose 20% of their traffic for every 100ms of load time for a page.
Page speed affects many areas of the website as of the total amount of revenue made by your site online.
Why 100% score matters in Google PageSpeed Insights?
As we know, Google PageSpeed Insights is a free-to-use tool and works pretty simply. You just need to enter your site's URL and it will analyze your website's front-end performance and provide a score out of 100.
The tool considers various aspects and the score is provided on the basis of the website performance on those aspects.
Along with the score, the tool also provides recommendations to improve page load time and site performance. But it doesn't provide proper information on how to get a perfect 100 score for your website.
Many people spend lots of time attempting to get a perfect 100 score but even after much effort, they lack.
So here we present the list of elements that can help your website score 100/100 on Google Page insights.
1. Core Web Vitals
Recently chrome team has announced Core Web Vitals. A set of metrics related to loading experience, responsiveness and visual stability of the page.
Core Web Vitals consider 3 main criteries:
Largest Contentful Paint
LCP evaluates pre-received load speed and marks the point in the page load timeline when the page's main content is nearly loaded.
First Input Delay
FID measures interactiveness and evaluates the experience of the user trying to interact with the site for the first time.
Cumulative Layout Shift
CLS measures visual stability and marks the amount of unexpected layout shift of visible page content.
2. Image Optimization
The biggest cause of slow pages and a low score is images accounting for most of the downloaded bytes on a page.
Image optimization often releases larger bytes saving and improves site performance.
The lesser the bytes that have to download, the faster the browser can download content and display it on the screen.
Defer offscreen images process or commonly known as "Lazing Loading". It is a widespread practice to improve page speed and minimize page load type occurring due to large image sizes.
Using properly sized images or responsive images also works positively towards improving page speed.
3. Leverage Browser Caching
When a visitor enters your site for the first time, all the images, heavy HTML, and other codings and page elements are downloaded in the browser.
Browser caching helps to improve page speed by remembering the pre-loaded resources and displaying them without downloading them while re-visiting.
This means the user's browser has to download fewer data and make fewer requests to your server.
4. Reduce Server Response Time
TTFB – Time To First Byte means the measured time taken by the browser to collect the first byte of data back from your website's server after making a request.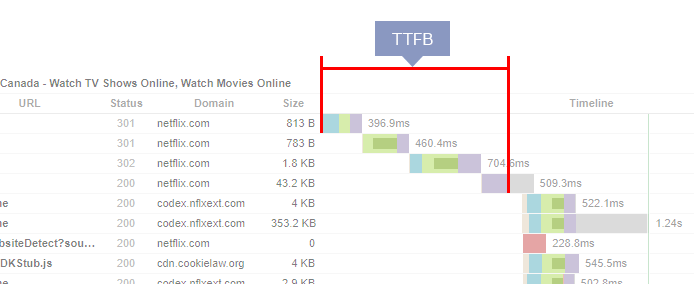 Low TTFB can be achieved by various means like choosing a better & high-quality web hosting provider, including less plugin to your site, choosing a Solid Domain Name System, installing lightweight themes, etc.
CND (Content Delivery Network) is highly recommended for faster page speed. It works as a background by collecting all your images, CSS, and javascript and saving a copy of the files in their servers spread around the globe. Read more about: what is CDN & how it works?
This helps visitors to quickly download the files from the rarest server in their geographical area.
5. Minify CSS, JAVASCRIPT and HTML
Minification of CSS, JAVASCRIPT, and HTML is crucial because it creates a smaller yet fast for the server version of your file.
It is a big factor in getting a perfect 100/100 score from the Google page speed tool.
It's the process of condensing your files by removing or fixing unnecessary or duplicated characters, spacing, and data without impacting how a browser will process the HTML.
It involves fixing or minifying e white spaces, new lines, unnecessary and unused code, redundant formatting, comments, code, and shortening codes as much as possible, etc.
6. Integration Of AMP
As we talk of improved page speed, AMP – Accelerated Mobile Pages is the first thing to strike the mind.
It's Google implemented a project which offers web developers instructions and resources helping to create mobile pages that deliver content faster than usual.
It's basically an open-source version of your webpage that removes tons of unnecessary content and features that makes your site slow.
It gives mobile users a better experience without any clunky features.
AMP allows Google to pre-render and load web pages instantly.
Get your free Google page speed audit & recommendation report
A Final Note
After spending a lot of valuable time on perfect website creation along with top-notch images, coding, and all elements, your expectations get shattered into pieces when it doesn't contribute to the conversion.
Nobody likes to wait for even 10 seconds to stay and wait on your site while it loads. Your site has to be fast to carry the visitor to the success page.
Try to understand where your site is lacking and decide on further improvements to fasten up the page speed quickly.
Google PageSpeed Insights helps you at this stage, it analyzes, recommends as well informs some detailed guidance to improve page speed.
For more personalization speed optimization of your website, you should check out with SetuBridge. SetuBridge promises to offer the most dependable services to help your website rank top in all aspects.
From the experience of 8+ years, dedicated to web development and eCommerce development. The company has a treasure of tactics and tricks for better website ranking. You can get our guidance at support@setubridge.com
Charmy is an India-based Content writer and Business Development Manager with an ongoing curiosity to learn new things. She uses that curiosity, combined with her business relationship with the clients & organizations, to understand the terms of the subjects & information to be valued most by eCommerce enthusiasts.