A website with a poor loading experience will ruin the user experience. As per a Google report, it is estimated that if a page takes more than 07 seconds to load, you will be 113% more likely to bounce off the page. But speeding up your website is a challenging task
Google has discovered a link between conversion rate and loading time by removing seven seconds from the average loading time for mobile landing pages; 67% of smartphone users prefer to buy from a company whose apps or mobile devices customize information based on their location; and much more.
To reduce your bounce rate, make sure the site loads quickly. When your site loads faster, you gain a ranking advantage over a slow website with high bounce rates. Fortunately, Google provides a tool, Google PageSpeed Insights, to help identify the problem.
Although the Google PageSpeed Insights tool cannot provide you with the commands to achieve an excellent score, that's why we are bringing this article to you—it could assist you in scoring good numbers in the Google page speed test by doing specific tweaks.
What is Google PageSpeed Insights?
Well, Google PageSpeed Insights is a tool that allows you to quickly and effectively check the speed of a website or webpage. You have to carry out specific processes to check the website's speed.
First of all, you have to enter a web page URL over here and press the analyze button, which will display a detailed report of what's slowing down your webpage based on the two frameworks, which are as follows:
Framework 01: Time to above-the-fold load. A page takes time to show the full content above the fold since the user requests a new page.
Framework 02: Time to full page load. It takes time for a web browser to render a page once the visitor requests it.
So, as per Google norms, Pagespeed Insights keeps track of user experience and measures the performance of a page for desktop as well as mobile devices. The PageSpeed Insights score ranges directly from 0 to 100. If told about the high score, a score of 90 or above is considered to be good, whereas speed between 50 and 89 is the score range where improvements are required, and below them is considered to be poor.
Why Google PageSpeed Matters for a Website.
PageSpeed matters a lot and is a significant factor in ranking higher in Google search engine results. You've got to ensure that if your website isn't on par with the Top 10 organic pages, you won't rank on the first page. So, focusing on page speed is critical for having a successful website that converts.
In 2020, Backlinko conducted research where they analyzed over 11.5 million Google search result pages. The main reason behind this is to figure out what factors are most common among the websites ranked in the top 10 results. And specific Key takeaways were significant such as;
Search engine rankings can be enhanced by posting in-depth, thorough content.
Receiving links from a large group of domains is crucial from an SEO perspective.
The mean number of words written in the blog is somewhere between 1400 to 1500 words.
The average load time of the website appearing on the first page is somewhere between 1.60 to 1.75 seconds.
A Webpage ranking Google's first 10 results includes 65% to 85% of the keywords listed in its title tag.
According to Google's new PageSpeed industry benchmarks people are much more likely to abandon a site if it takes too long to render. Especially if it takes more than 3 seconds, half your users are going to bounce back from there even without seeing them. As you can see in the chart, the page doesn't load with each passing second, and the bounce rate will keep increasing gradually.
So, although it's an alarming number if you look into it, if your website takes more than 10 seconds, the bounce rate will increase by 100%. According to a recent study, a desktop webpage renders 87.84% longer to load than a mobile page. This shows that many of us need signs when talking about fast-performing websites.
According to Bigcommerce research, the average conversion rate for eCommerce websites is between 1 to 2 percent. Looking at this, it depicts one thing: you must optimize your store to get a speed under two seconds that could boost your revenue and traffic.
But, the question might come to your mind: what causes a page to load slowly? Typically, bulky images and poorly designed coding are the causes of these problems. There could also be some other issues, such as excessive HTTP requests, JavaScript issues, wrong server locations, etc.
Well, talking about the benefits of optimizing the images on your website! It makes your pages load quicker, preventing impatient visitors from leaving your site. You can save money and improve user experience by lowering the size of image files, which also lightens the burden on servers and uses less bandwidth. Moreover, SEO-optimized photos can increase your website's position, making it simpler for search engines to reach your website.
With the help of page weight bytes, you can measure page size and weight. Using page weight bytes, you can show how many bytes a webpage is as a whole.
According to Google benchmark, the best practice for page size or page weight should be around 100 KB. As per the recommendations, we have to make sure that we stay within the limit of the recommended weight to make it work smoothly.
How PageSpeed Insight Tool Benefit Our Website?
Due to the large images that take up so much space, most websites run slowly, but this is not the reason you apply to every website. You need to be sure of what is causing your website's slow speed before making any changes to score 100 in the Google Pagespeed Insight tool.
The program PageSpeed Insights aids in enhancing the speed and functionality of your website. PageSpeed Insights analyzes the content of your website and provides advice on how to make it faster, which can increase user engagement and search engine results. Faster websites are better for user experience since they encourage people to stay on your site longer. You may identify the parts of your website that are causing a performance hit with PageSpeed Insights and adjust them accordingly. By doing so, you may lower bounce rates, raise engagement levels, and eventually boost conversion rates.
With PageSpeed Insights, it will assist you in enhancing not just the user experience, but also the SEO for your site. Google also claims that the speed of your website is more likely to appear higher in search engine results. You may find address speed problems that might be affecting the search engine rankings of your website by utilizing PageSpeed Insights.
Get 100% Google PageSpeed with these 05 tips.
1. Core Web Vitals
They are signals of a standard set of performances that is critical for all the web experience. It helps to measure the feature of user experience that has many facets. FID, LCP, and CLS are the metrics of the core web vitals and might be grouped either at the page or the origin level. 75% in all three measures is Good, the collection will pass the Core Web Vitals analysis. On the contrary, if this doesn't happen and aggregation does not meet the criteria it will fail the evaluation.
Core Web Vitals consider 3 main criteria:
Largest Contentful Paint
The main content of the page has most likely loaded at this point in the page load timeline, which helps to evaluate actual load speed.
First Input Delay
It improves in measuring responsiveness and evaluates users' experience while engaging with the site for the first time.
Cumulative Layout Shift
It assesses the degree of unexpected design change of the visible page content and gauges graphic stability.
2. Optimization of Images
When this occurs, there is a significant impact on the amount of time it takes for a page to load, and more precisely, on the conversion rate. According to the findings of the study, websites that were successful in converting visitors had 38% fewer images than those that were unsuccessful in doing so.
The single reason behind the slow pages is that their images aren't optimized as per the requirement. There are various options on what the optimal size of the file is. While some hosts say that you have to aim for a size of a file under 200 KB. Shopify mentioned that it's a better image file size below 70 KB.
Well, we are giving you the reference of the top 05 websites that would assist you to optimize the images without compromising the quality of your images.
3. Minify CSS, HTML, and JavaScript code
The term "minifying" refers to the process of deleting unnecessary data that is excessive or redundant without changing how the browser processes the page. This issue may have been caused by poor code, and several various approaches can be taken to address it.
Tools that help to minify the HTML
Tools which is beneficial for optimizing the CSS
Tools beneficial for optimizing the JavaScript Code
Of course, using Google's AMP frameworks is still a choice. With the help of both programs, web designers can develop pages using a simplified version of HTML, CSS, and JavaScript. Pages and advertisements load as a result very quickly.
4. Reduce Server Response Time
TTFB – Time To First Byte means the measured time taken by the browser to collect the first byte of data back from your website's server after making a request.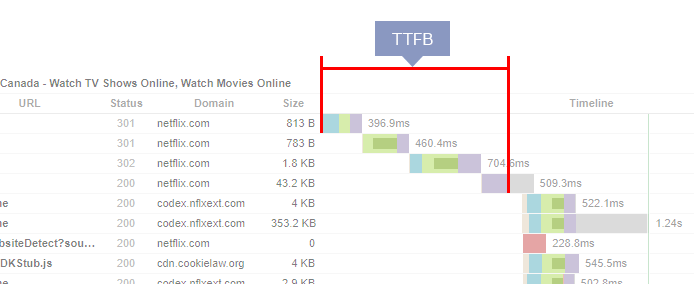 Low TTFB can be achieved by various means like choosing a better & high-quality web hosting provider, including fewer plugins to your site, choosing a Solid Domain Name System, installing lightweight themes, etc.
CND (Content Delivery Network) is highly recommended for faster page speed. It works as a background by collecting all your images, CSS, and javascript and saving a copy of the files in their servers spread around the globe.
This helps visitors quickly download files from the rarest server in their geographical area.
5. Execute Accelerated Mobile Pages:
In the year 2023, one research was published and found that 58.43% of website traffic comes from mobile devices. You also get a mobile-optimized site in the search result rankings. Apart from this, if your mobile site is loading quickly, then Google promotes that website at a higher ranking by giving it a higher page speed score.
You will be able to check the speed of your site with the PageSpeed Insight tool. After placing the URL you would be able to get access to the entire report, and by toggling between the Desktop and mobile tabs to see the individual scores.
"If you're falling behind, you should aim to simplify what the visitor sees when they visit your mobile site. Hide or downsize desktop site components, such as images or additional text boxes, that may appear cumbersome or unneeded on a mobile device's display."
Although, there are almost 06 ways that help you to improve your Mobile SEO
6. Content Delivery Network:
It's a group of servers that are distributed globally and store a browser cache of a website which helps to load it quickly whenever visitors come to your website. For anybody who visits your website, the pages will be loaded from its nearby CDN servers which are close to the visitor, rather than from your server.
The primary purpose of the content delivery network is to deliver any type of digital content efficiently, effectively, and securely to your users, no matter in which corner of the world they're currently in and the device they're using currently.
CDN would help you to reduce the latency, increase the page speed response, minimize bandwidth consumption, and much more. Although, there are certain CDN providers which include:
Closing Thought:
In this fast-moving world where everybody wants quick results, everybody would seek to load your site in under 05 seconds to carry success. You have to understand where your site is lacking and what things you should carry out to fasten up the speed of the page quickly.
So, here we are at the end of the article and share the five-pointer which could help you to enhance the Google PageSpeed score of 95+. And, to reach that threshold, we offer a speed optimization service that supports you to get to better heights.