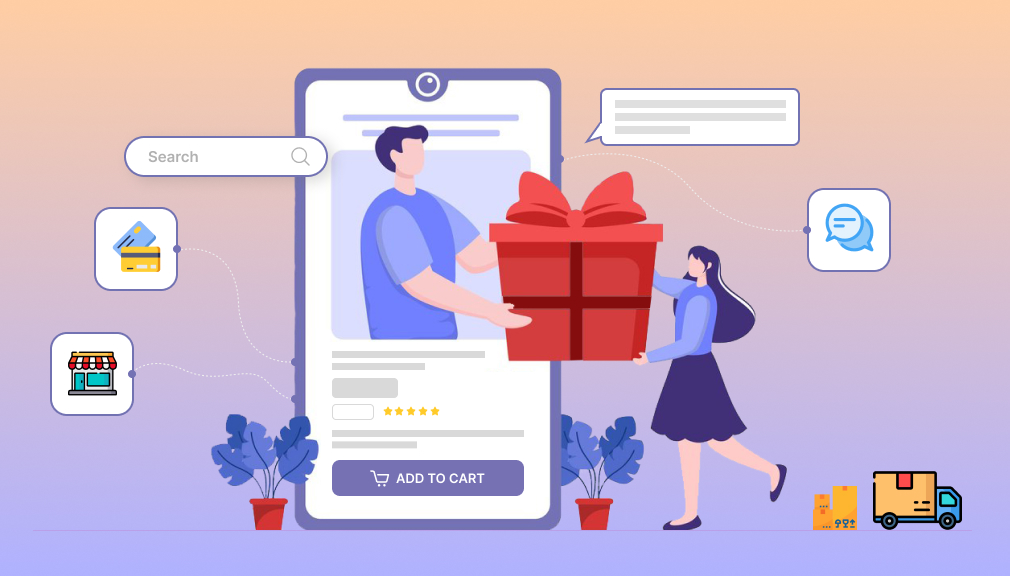 Looking to turn your creativity into a thriving business? Look no further than the world of personalized gifts! Whether it's a heartfelt message on a photo frame or a custom keychain, these unique creations make people's special moments even more memorable. And here's some great news: the personalized gift market is on the rise.
According to a report by Market Research Future, it's projected to grow at an impressive annual rate of 5%-6% from 2023 to 2030. In fact, by 2030, it's estimated to reach a staggering $42.003 billion. But the true value of personalized gifts lies beyond the numbers—it's about forging emotional connections. Remember the joy you felt when receiving a gift tailored just for you?
With a personalized gift business, you can bring that same happiness to others. So, let's dive into the world of Shopify Store Setup and turn your passion into profit! Offering custom-made gifts like jewelry, photo albums, picture frames, Keychains, lamps, and much more allows customers to show their love and appreciation. Each gift becomes a special reminder of the bond between two people.
Starting a personalized gift business is a win-win opportunity in this growing industry. In case you're finding out "How to start a customized gift business" then you have everything in this article.
I. Research and Planning
As there is a famous saying by Andrew Davis, "Commit to a niche and try to stop being everything to Everyone". Creating a strong brand requires finding your niche, where focusing on a specific type of product outshines offering unrelated items. By doing so, your store can cultivate a united idea and build a loyal customer base. Consider intriguing gift niches like personalized gifts, handmade gifts, seasonal gifts, or souvenirs. With an established niche, you can expand your product range while staying true to your brand. Remember, niche-oriented stores foster stronger branding and customer connections.
Before diving into the world of custom gifts, it is important to have a proper overview of your target audience. Conduct market research to determine their preferences, interests, and buying patterns. Also, analyze your competitors' strategies to understand their strengths and weaknesses so you can differentiate your brand.
To stand out in the market, you need to define your unique selling proposition. Identify what sets your custom gift store apart from others and emphasize this distinctive aspect throughout your branding and marketing efforts. Whether it's personalized customer service, a wide range of customization options, or exclusive partnerships, make your USP the cornerstone of your business.
Decide on the types of customizable gifts you want to offer. Consider a diverse range of products, such as engraved jewelry, personalized home decor, custom apparel, or bespoke stationery. Offering a broad selection caters to different tastes and occasions, ensuring you have something for everyone.
Establishing clear goals and objectives is vital for measuring your progress and staying focused. Define specific targets for sales, customer acquisition, website traffic, and customer satisfaction. You can assess and adjust these goals to adapt to market trends and customer feedback.
II. Setting Up Your Online Custom Gift Store
Selecting a trustworthy e-commerce platform is important for the seamless operation of your online store. Consider things like usability, customization, scalability, and integration with payment gateways and shipping providers. Popular systems such as Shopify, WooCommerce, and BigCommerce can help you build a strong foundation for your business.
Choose an enduring domain name that represents your brand. It ought to be distinctive, important, and targeted toward your intended audience. Make sure the chosen domain name is available and doesn't violate any trademarks by doing extensive research.
Create a website that will enhance the purchasing experience. Pick a layout that illustrates your items. Use high-quality images and combine responsive design, easy navigation, and clear calls to action to ensure compatibility across a variety of devices.
Focus on the security of your customer's personal and financial information. Put in place secure payment gateways, such as PayPal or Stripe, and display trust seals or SSL certificates. Adhere to data protection regulations and communicate your privacy policy to build trust and credibility with your customers.
With efficient inventory management, you can ensure product availability and timely order fulfillment. Integrate inventory management systems to track stock levels, automate reordering processes, and avoid overselling. Additionally, provide customers with order tracking information to keep them informed about the status of their purchases.
III. Sourcing and Creating Customizable Products
Identify reliable suppliers or manufacturers who can provide high-quality customizable products. Conduct thorough due diligence, including reviewing samples and checking references, to ensure they meet your standards for craftsmanship.
To offer a truly personalized experience, explore various customization options such as engraving, printing, embroidery, or monogramming. Partner with skilled artisans or invest in appropriate equipment and technology to deliver impeccable customization results. Ensure that the customization process is seamless, easy to understand, and clearly communicated to customers.
Maintaining consistent product quality is crucial for building customer trust and loyalty. Implement rigorous quality control measures to ensure that all customized products meet your standards. Conduct thorough inspections, test prototypes, and establish clear guidelines for your suppliers or manufacturers to adhere to during production.
Consider offering a range of price points to accommodate customers with different budgets. While some customers may be willing to invest in premium custom gifts, others may prefer more affordable options. By providing a variety of pricing tiers, you can attract a broader customer base and maximize sales opportunities.
IV. Building Your Brand and Marketing
Create a memorable brand identity that appeals to your target market. Establish the personality, values, and tone of voice of your brand. Use a distinctive logo that captures the essence of your company consistently in all of your marketing collateral and platforms.
Craft a persuasive product description that would highlight the unique features and benefits of your custom gifts. Use descriptive language, emphasize the personalization aspect, and evoke emotions to engage potential customers. Accompany your product descriptions with high-quality images that showcase the craftsmanship and customization options available.
Leverage the power of social media platforms and showcase your products, engage with customers, and build a community around your brand. Identify the platforms that align with your target audience, create captivating visual content, and encourage user-generated content through contests or giveaways. Respond promptly to comments and inquiries, fostering a sense of connection with your customers.
Develop a content marketing strategy to educate and inspire your audience. Create informative blog posts, video tutorials, or gift guides that showcase the versatility and value of your custom gifts. By providing valuable content, you position your brand as an authority in the industry and attract organic traffic to your website.
Partner with influencers or bloggers who align with your brand and have a significant reach in your target market. Collaborate on content creation, sponsored posts, or product reviews to expand your brand's visibility and credibility. Leveraging their influence can help you reach new audiences and drive traffic to your online store.
Build and nurture a loyal customer base through eMail marketing campaigns. Offer exclusive discounts, personalized recommendations, or early access to new product launches. Segment your email list based on customer preferences and purchase history to provide targeted and relevant content, fostering customer loyalty and repeat purchases.
V. Providing Exceptional Customer Service
Offering various channels for customers to reach out for support, including email, live chat, or phone. Ensure that these channels are easily accessible and clearly displayed on your website. Respond promptly to inquiries and provide helpful, personalized assistance to create a positive customer experience.
Timely and responsive customer service is essential for building trust and customer satisfaction. Aim to respond to inquiries and concerns within 24 hours, if not sooner. Address customer issues with empathy, professionalism, and a commitment to finding a satisfactory resolution.
Shipping delivery plays a crucial role in an Online Custom Gift store. It's the final touch that brings smiles to your customers' faces. Fast and reliable shipping ensures their personalized treasures arrive on time and in pristine condition. Don't leave them hanging, make their gifting experience unforgettable by prioritizing efficient shipping.
Go the extra mile to personalize the customer experience. Consider including special packaging, handwritten notes, or small freebies with each order. These thoughtful touches add a personal touch and make customers feel valued and appreciated.
Establish a customer-centric return and exchange policy to build trust and confidence in your brand. Make the process simple and straightforward, clearly outlining the steps and requirements for returns or exchanges. Promptly process returns, offer refunds or replacements, and use customer feedback to improve your products and services.
VI. Scaling Your Business
Regularly analyze sales data to identify trends, popular products, and customer preferences. Use this information to optimize your product offerings, adjust pricing strategies, and identify new opportunities for growth.
Actively seek feedback from your customers to gain insights into their experience and preferences. Send post-purchase surveys, encourage reviews, or utilize social media polls. Use this feedback to continuously improve your products, services and customer experience.
Consider strategic partnerships or collaborations with complementary businesses to expand your offerings or reach new markets. For example, you could team up with event planners, wedding photographers, or corporate gift suppliers. These partnerships can help you tap into new customer bases and increase brand exposure.
While Leveraging the power of word-of-mouth marketing by implementing a referral program. Incentivize your customers to refer their friends and family to your online store by offering discounts, exclusive offers, or loyalty rewards. This can help you acquire new customers and increase customer retention.
Improve your online visibility and attract organic traffic by optimizing your website for search engines. Conduct keyword research and incorporate relevant keywords into your website content, product descriptions, and blog posts. Focus on creating valuable and informative content that aligns with search intent to improve your search engine rankings.
Conclusion
Are you ready for an exhilarating journey into the realm of online custom gift stores? Prepare yourself for a thrilling adventure brimming with research, meticulous planning, and an abundance of customer adoration. To flourish in this dynamic industry, it is imperative to possess an intimate understanding of your target audience, establish a unique brand identity, and offer a diverse array of personalized treasures. Uncompromising exceptional customer service is an absolute must! And let's not overlook the art of marketing, which will illuminate your brand in all its glory. Embark on the custom gift revolution today and skyrocket your online store to unimaginable heights of success. With the Shopify store setup, your journey begins now.
FAQ
Q. What are the important steps to start a custom Online gift store?
A. Well, it all starts with market research and understanding the demands and you can fulfill that particular gap. In this way, you have done all the basic steps.
Q. What are the important things to start an Online custom gift store?
A. Since you are looking to start an online business, you need to have a proper domain name, website hosting, along with a reliable eCommerce platform.
Q. How can I source custom gift products for my online store?
A. To lead in this industry, you need to partner with the right suppliers or manufacturers that would fulfill all your customization services.
Q. What Marketing Strategies can I use to promote my Online custom gift store?
A. Although, there are various ways through which you can easily promote and scale your business, some of them are as follows, Social Media Marketing, Collaboration with Influencers, Cross-promotions, Ads on Social platforms, eMail marketing, SEO and the list will go on and on.
Q. How can I ensure a Smooth fulfillment process for my custom gift orders?
A. In order to ensure a smooth transition for your fulfillment process, you have to work closely and monitor reliable shipping partners.
Source