Do you want to make money from your Magento 2 store? Hopefully, there are plenty of sales-boosting & lead generation extensions for Magento 2 available to quickly achieve the targeted sales.
Best Lead Generation Extensions:
Presently, Magento 2 is an evergreen platform in the digital world. If store owners want to make their online store more eminent and increase visitors, then they have to add functions to their website using various extensions.
In this article, we have explained the top 11 lead generations Magento 2 extensions. These extensions help you enhance your store performance and attract more visitors to your store. Moreover, you can convert your visitors into customers and hike your sales.
Without any further ado, let's check out our smartly curated Magento 2 extension list!
1. Quick Cart
Quick Cart Drawer Magento 2 extension improves the conversion rate and shopping experience of the customers by displaying all the necessary product information in the mini cart, along with the option to apply the coupon code and proceed to checkout directly from the mini cart.
As the customer clearly gets to see all necessary information required to place an order in the mini cart, further can proceed to checkout directly from the mini cart.
You can purchase this Magento 2 extension for just $99.
2. Best Deals
The Best Deals is an amazing Magento 2 extension that allows you to showcase special products with an attractive timer on your Magento 2 store. It is a great way to tell your visitors when the deal and special offers will be started. The countdown clock present in the separate timer for the products has a discounted price with start and end dates. And, you can easily customize the timer blocks.
This extension helps you to improve your sales on your online store by showcasing special prices and a sense of emergency with limited-time offers.
You can purchase this Magento 2 extension for just $49.
3. Spin To Win Discount
The Magento 2 Spin to Win Extension was developed by Setubridge exclusively to create an interactive eCommerce Store that aims to engage and attract customers in the festive season through a unique promotional tool that leverages a Spinning wheel game to give them a surprise discount!
This highly interactive Magento 2 Spinner also provides the functionality to manage the number of spin counts for a particular user and send the discount voucher to users via email so that there is complete transparency and no confusion as to when the customers can redeem it.
You can buy this Spin To Win Magento 2 extension for just $59.
Also read: Top 9 Sales Booster Special Magento Extensions
4. Reward Points
The Reward Points Magento 2 extension encourages customers to buy more products using an effective loyalty program. You can easily turn website visitors into loyal customers. You can provide rewards to your customers for purchasing, registering, and many more.
Using this plugin, you can insert or reduce points from a customer's balance. You can also track the customer's reward point history.
With this extension, you can increase the revenue by explaining to consumers that the more purchases they make the more rewards they get. You can also magnify the customer's satisfaction by providing them with a small gift on their birthday.
You can buy this Magento 2 extension for just $299.
5. Best Seller Products
The Best Seller Products Magento 2 displays the best-selling product through the slider and grid layout. This extension promotes the product images on the left or right slider or dynamically in the slider show. This extension displays system-developed products as best sellers. It will help to grab the user's attention and uplift sales.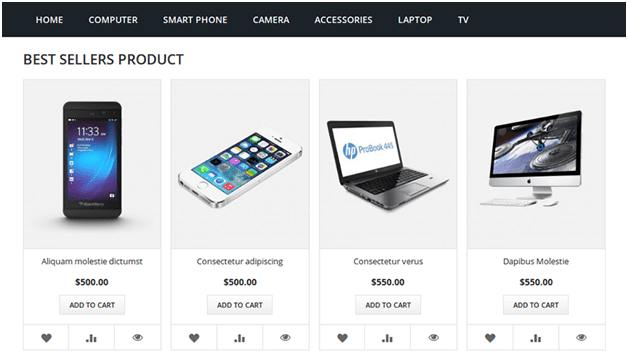 Apart from this, you can also set the product limit for sidebar and home page products. And, the consumers can directly insert these products into the Cart, or Wishlist.
You can buy this Magento 2 extension for just $49.
6. Most Viewed Products
The Most Viewed Products is a great Magento 2 extension that helps you to showcase your products attractively and gain visitors' attention. You can control the number of products from the admin panel and showcase it in the slider bar. Improve your online store by permitting the catalog to display the catalog's most viewed product.
You can display a specific number of products in the grid layout with thumbnails with this extension. All the most viewed products are demonstrated in the slider with navigation arrows. Consumers can insert these products directly to Wishlist, Cart, as well as compare from Most viewed product blocks on the home page.
This extension provides 3 ways to showcase Most Viewed Products.
Stand-alone Magento 2 page.
Slider in the right or left sidebar.
widget-like block that can be added anywhere.
You can buy this Magento 2 extension for just $49.
7. Advanced Testimonials
The Advanced Testimonials is a user-friendly Magento 2 extension that permits your consumers to submit reviews. And, you can display testimonials on your online store.
These powerful customer testimonials give reason to new visitors to purchase a product without any doubts. You can showcase a customer's name, description, company name, email, and many more on the testimonial page. And, with this feature, your testimonial page becomes more wide-eye to customers and visitors. Ultimately, it will intensify your sales.
Furthermore, this extension supports the adaptive configuration with distinct settings of the testimonial list.
You can purchase this Magento 2 extension for just $49.
8. Notification Bar
The Magento 2 extension offers eCommerce merchants to create & display numerous attractive and call-to-action promotional bars for specific/all pages to grab customers' attention on new launches, special offers, deals, etc. Show promo bars to specific or all customer groups.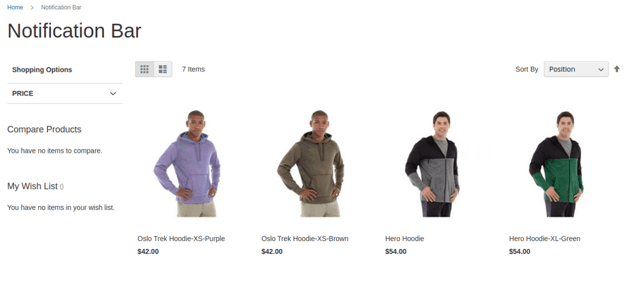 The admin can schedule start and end dates to automatically start & stop displaying notification bars from the admin panel.
You can buy this Notification Bar Magento 2 Extension for just $59.
9. Abandoned Cart Email
This Abandoned Cart Email Magento 2 extension helps you to effectively recover abandoned carts and enhance conversion. It also heightens the revenue with custom emails, providing discount coupons and recalling them about their cart abandonment. This extension is flexible enough to trigger emails at any particular time, remove the queued emails, and send them manually from the back-end panel as well.
In addition to this, the extension comes with blacklist features that permit the store admin to remove specific customers from getting reminder emails related to their abandoned cart.
You can buy this Magento 2 extension for just $149.
10. Auto Related Products
The Auto Related Products Magento 2 extension permits you to set conditions and action rules to establish a connection between showcased products and related items. It is flexible for creating unlimited rules for each product. Multiple blocks can be showcased at a single time on a web page.
It is considered the most effective extension to hike your sales and increase your purchasing experience.
You can buy this Magento 2 extension for just $179.
11. M2 Follow Up Email
The Follow Up Email Magento 2 extension provides extensive targeting options to run email marketing campaigns. You can track as well as analyze your consumer's reactions with the reporting tools. Moreover, also organize a plethora of email campaigns with an appropriate title, description, and duration.
Furthermore, you can also change the order of sending emails using the drag and drop feature. Apart from this, you can also divide follow-ups for various customer conditions. In addition to this, the condition includes store view, customer segment, customer groups, cart and product condition, lifetime sales, and many more.
Using this tool, you can monitor stats to get a better vision of your email marketing performance. Also, prevent any kind of spam risk using an automated email chain.
You can buy this Magento 2 extension for just $319.
Final Thought!
We hope these above-explained Lead Generation Extensions for Magento 2 help you to gain significant growth in sales and profits from your online store. Importantly, take the best out of these plugins according to your online store's requirements. There is also one more magento cancel order extension that can help the admin to auto-cancel the pending and processing orders from the backend directly.
Don't forget to share your experience with these extensions in the comment section below!