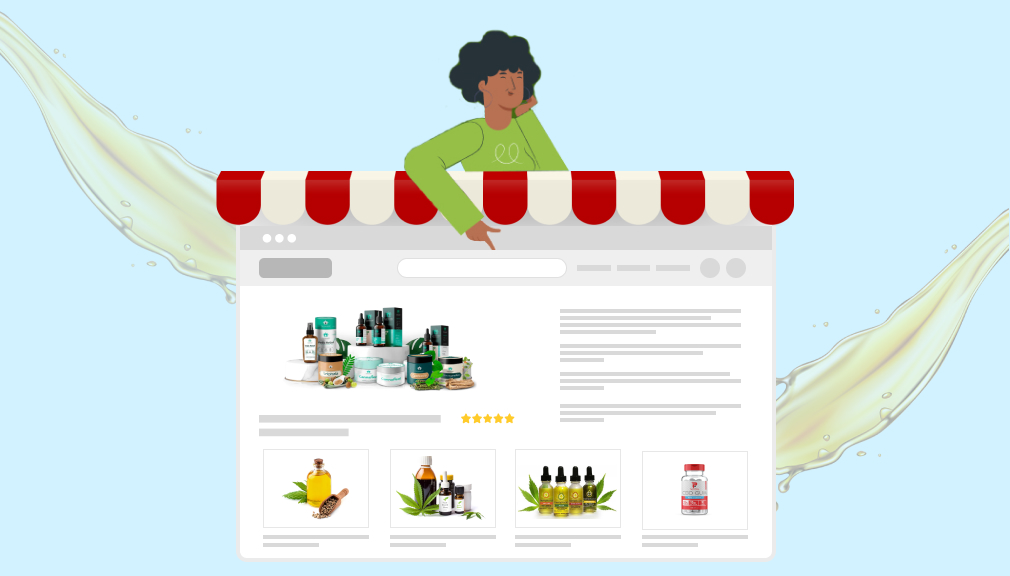 8 MINS READ –
Are you excited to launch your own online business because of how quickly the CBD market is growing? Then look nowhere else, we have put up an informative blog on this topic that reveals all the necessary secrets of starting a profitable CBD business. But in this blog, the talk of the town will be on Shopify.
With step-by-step guidance, we will empower you to set up your own Shopify store, ensuring a seamless and hassle-free experience. Don't miss out on this opportunity to embark on the CBD growth journey.
Talking about the growth that's been anticipated by Forbes, the market of CBD would grow by $16 billion in 2025. The best part is, with Shopify, things are becoming quite easy for sellers to establish their online store and sell their products online.
Since new stores are opening on a regular basis and keeping these things in mind we'll be going to discuss the best 10 Shopify stores at the moment. So, understanding these many aspects, let's get started with your Shopify Store Development Services today.
Top 10 Shopify Store of CBD Business
Welcome to the world of CBD, where wellness and innovation converge. Are you ready to embark on an exciting journey of establishing your very own online CBD store? Look no further, as we guide you through the captivating process of Shopify Store Setup, empowering you to showcase your unique products to a global audience. Let's unlock your entrepreneurial potential and unleash the power of CBD!
Due to the difficulty of coping with Dysfunctional epilepsy, the company, which was created in 2019, introduced infused CBD. They deal with a range of products beginning with balm, capsules, gummies, including vape oil. The best part about the store is that they sell to the UK. They are also partnered with a charity called "Ecologi".
The company hails from Whitley Bay, United Kingdom, and specializes in a wide range of CBD products. From luxurious CBD bath salts to convenient CBD bundles, they offer an extensive selection. With a total of approximately 28 to 30 products, their diverse range caters to various needs and preferences.
---
Talking about Leef organics, the company is on a mission to offer 100% organic, non-gmo, human grade pet food. They are constantly researching and experimenting to improve the lives of humans and as of now, they are 110% focused on seeing how far they can take this love of plant-based wellness. The best part is, they are regularly pushing to explore what's new and innovative approaches and exploring new possibilities with botanical extractions.
When it comes to the company's background, let's delve into its fascinating origins. Nestled in Willits, California, they boast an impressive 12,000 sq ft research center, accompanied by a cutting-edge extraction facility. Renowned for their groundbreaking techniques in botanical extractions, they've earned a stellar reputation in the industry. Their success is further amplified by an extensive product lineup, offering an impressive range of 28 to 30 top-notch products. With its remarkable market presence, this company is undoubtedly one to watch!
---
---

In order to help at least five individuals every month learn about the advantages of hemp, the founder Jeff Gallagher made it his personal goal after using hemp supplements to completely change his life. In early 2013, he founded MHR Brands. Shortly after, Made by Hemp was created. After 2013, Made by Hemp has been a market pioneer in making goods and collaborating with merchants to provide high-quality CBD products worldwide since 2013.
Located in Jenison, Michigan, our company specializes in two exciting categories: Shop by Health Benefits and Star by Product Type. With an impressive selection of 113 products in the former and 55 in the latter, we have everything you need to enhance your well-being. Whether you're looking to target specific health concerns or explore different product types, we've got you covered. Join us on this journey toward a healthier and happier lifestyle.
---
Josie Maran had a goal to provide "luxury with a purpose" from the year 2007. To begin with, Josie Maran concentrates mostly on cosmetics and skin care goods, but they also sell hair care products along with bath accessories. They have a formula for everybody and every skin type and offer total care for the skin as the ingredients are chosen carefully and they have naturally sourced scents.
The company's main headquarters is located in the United States. It initially offered a few counting products, but now it offers a wide range of products across various categories. What's impressive is that they currently offer a total of 98~100 products.
---
This company Prima was established to offer the products, tools, and all the required education that would help the people to get there. They are wellness advocates, science enthusiasts, and changemakers with a deep respect for nature along with a firm belief and bringing balance to society.
The company originated in Santa Monica, CA, USA and has currently crafted a selection of quality yet limited product categories including Supplements, Bodycare, and Skincare, with a product range spanning approximately 45 to 50 items.
---
People Also Read: How to Start a CBD Business
The main motto of Briogeo was to discover all the new possibilities and to ensure that every product they create becomes really extraordinary for all types of hair and textures. Briogeo is constantly innovating and creating better formulas, which are better for your planet.
The company began in Miami, Florida in 2012 and boasts an impressive product range of over 100 items. What sets them apart is their extensive experience in this industry for more than a decade, providing customers with a constant source of inspiration. They firmly believe that confidence in having healthy hair should be accessible to everyone. In conclusion, it is a commendable initiative.
---
Cannuka has two natural skin-loving ingredients which are CBD and Manuka Honey that are combined to create an optimal and effective range of skincare products. The best part about them is their products are so simple, natural and it also includes essential beneficial ingredients.
They have the first and foremost solution which is designed to calm, moisturize, and nourish your skin. The company is operating from Ohio and till now they have almost 38~40 products in their belt. The best part is their products are loved and appreciated by big giant companies.
---
Talking about CBD Collective, it's an organization of independent farmers looking to simplify the buying experience of hemp and the CBD community. Their main focus is to build the community and create awareness and access for the CBD and hemp manufacturers for their premium quality products and service.
Starting their business with two products, the company now has a total 91 products under them. The organization is situated in most of the region but overall we could say that it is from the United States. They want to run an effective and safe space to connect and capitalize on the opportunities to connect with the community and work with them.
---
The hustlers, side hustlers, activists, builders, and visionaries who are out there every day on the front lines of change inspire us. However, we also understand personally how simple it is to put your time, energy, and well-being at risk for the sake of your cause. For that, they developed Fleur Marche with big goals and a busy schedule and provided a straightforward solution.
Mentioning the Fleur Marche, the company is from New Jersey, United States and they've in-total 16~20 products. And, having a straight and clear mission with them and they'll help you to feel 100% on a regular basis.
---

Cannabis is an effective tool for well-being and health. You can fit it into your life, so yeah! Poplar provides the best collection of essential CBD products derived from hemp (often known as marijuana without the high) as well as educational materials and experiences to demystify plant medicine.
The company is based out in the United States, California in the year 2017. They are on a mission to take these CBD as Botox and Chardonnay and want to realize that cannabis DOES fit into their lives in a much easier manner. Since, they want to highlight their best products and the services
to help others feel more better and relaxed. Talking about the product count they have a total count of 105 which is commendable in itself.
Conclusion
In conclusion, the world of CBD is experiencing a remarkable boom, and if you're looking for an ultimate destination to explore and purchase top-quality products, CBD Shopify Store Development Services is your go-to solution. With its user-friendly interface and seamless shopping experience, a CBD Shopify Store Setup ensures that you have access to an extensive range of CBD products at your fingertips. 
So, whether you're a CBD enthusiast or someone curious about its potential benefits, take the plunge and dive into the realm of CBD through a Shopify store. Begin your CBD journey and discover a world of wellness like never before. Explore now and set up a Shopify store for CBD business.
SOURCE